Wilted Petals


              




                   This page is for Sexual Abuse Survivor's
      Whatever I can find that is helpful to the healing of the abuse
      I will put on this page.......and yes...it's for my healing also.
      I have found some pages here on the net that have helped me 
      tremendously with my journey and I want to share them with others.
      I hope you find something here that will help you with your healing,
      or help you understand and support someone with theirs.

      Sexual Abuse is widely spread and the damage it causes lasts for
      a lifetime.....there is never total healing for the victims.
      We survive it ... we don't know how we do it... or why sometimes...
      but we do.                                                         
                 
      Some of the contents here can be triggering for some survivors,
      so be safe..you can always come back when you are stronger.




             I Survived

        They took it from me
        A childlike innocence
          A feeling of trust
         A belief in fairness
       A true definition of love

         They gave it to me
        Pain and humiliation
         Confusion and fear
           Hatred of men
            Distrust, anger

I gave them, unknowingly, unwillingly
           My virginity
          My self-respect
        My pride and dignity
        My promise of silence

          I kept for myself
      A determination to survive
 My sense of "ME" buried deep inside
     My soul, shredded but complete
     My instincts, unused but there

       They couldn't destroy me
            I survived
      And I'm stronger than ever





             I've added this bulletin board for your use. 
             Let me know if you find any others.



     Here are some resourceful links that have been helpful to me.



        Personal Homepages



        Poetry and other writings from Survivors....



       If there's anything you would like to talk about or just want to
       submit any of your personal poems, writings, or more links,
       just e-mail me at mysticflower@hotmail.com. I will 
       withhold names at your request.



Home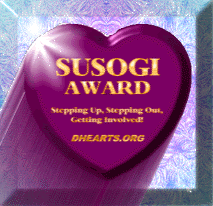 Let the Truth
Ring Out!


Because our voices can
(and do!)
make a difference!
| Please help support the 'Adopt A Guardian Angel' program. By doing so you are virtually taking the hand of a neighbor and joining us in creating a never ending circle around the world that will empower us to stand up and be the voice for all children of this planet! Show them we care enough to make a difference! In reality, by displaying this link back to our site you are helping us to meet our goal of creating awareness, education, recognition, prevention and intervention and that is the first real step towards breaking the cycle of abuse and stopping all forms of maltreatment! | |
| --- | --- |